Il precedente telecomando universale era costato una fortuna ed ultimamente scaricava le pile dopo poche settimane. Mi sono deciso di ordinare il più economico online. Meno di 5 euro comprensivo di trasporto.
Dopo circa un mese (c'erano in mezzo le vacanze di Natale) ieri è arrivato il mio Chunghop RM 139C direttamente dalla Cina.
Prima sorpresa: istruzioni solo in cinese.
Cerco in internet modelli simili e capisco che vi sono due modalità una automatica dove è sufficiente introdurre il codice della marca del televisore e una manuale dove bisogna provare con più codici.
Primo pensiero: non ce la farò mai!
Per fortuna nel foglietto LG (la marca del mio televisore) era scritto LG e nel telecomando SET ed i numeri non erano scritti in cinese.
Provo più volte il modo automatico e quello manuale ed ad un certo punto miracolosamente si mette a funzionare.
Nel frattempo avevo anche mandato all'azienda info (at) chunghop.com richiesta di documentazione in inglese pensando figurati se mi risponderanno mai.
Questa mattina leggo la risposta!
Dear Fabrizio,
Here enclosed is the setting method of RM-139C for ur ref.
The codes for LG TV are: 024, 040, 098, 043, 140, 259, 260, 261
Should u have any doubt, pls feel free to let me know.
2016-01-15
Thanks and best regards,
Lesley
CHUNGHOP ELECTRONICS IND CO.,LTD.
ADD: Zengcheng City, Guangdong Province, 511300, China.
QQ: 3179156931 SKYPE: [email protected]
TEL: +86 020 82667025
WEBSITE: http://en.chunghop.com/;
www.globalsources.com/chunghop.co
发件人:"Fabrizio Pivari (Pivari.com)" <[email protected]>
发送时间:2016-01-15 00:23
主题:Manual of RM 139C
收件人:"info"<[email protected]>
抄送: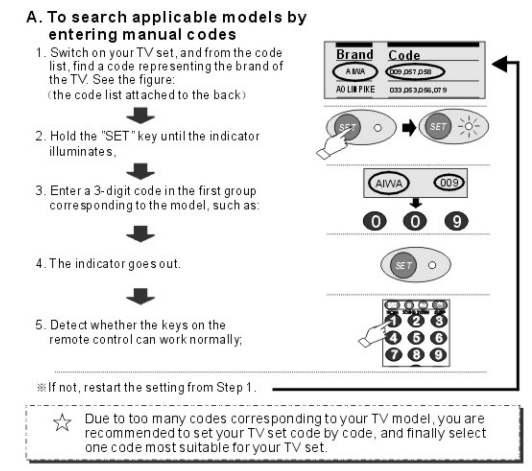 C'è tanto da imparare!